Solar energy has been a pretty big deal for quite some time now, but 2016 marked a banner year for this green energy source. Last year, solar generation set a record that is encouraging for those who value all that solar power has to offer. It's clear that more and more people are turning to solar power and using it to power their homes and businesses.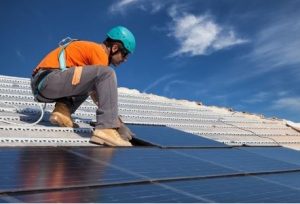 According to Electrical Construction & Maintenance, the solar market in the U.S. nearly doubled a record that it set just one year prior in terms of the amount of solar power that was installed. About 14,626 megawatts of solar photovoltaic paneling was installed in 2016, which is almost twice as much as the 7,493 megawatts of solar photovoltaic installed in 2015. For the first time in the history of solar power, EC&M reports that it finished as the top source of "new electric generating capacity additions on an annual basis."
It's not just residential property owners that are choosing solar, either. EC&M reports that nonresidential solar installation growth was actually stronger than residential solar growth for the first time since 2011 last year. But the residential sector is still very strong. While adoption rates continue to be strong here in California, where solar power has been popular for many years, states like Maryland and New Jersey have started to embrace solar, and it led to 19 percent growth in residential installations from 2015 to 2016.
Are you considering making the switch to solar power for your home? Rick's Energy Solutions can provide you with green energy audit services that will show you how to make your home more energy efficient. We can also help you upgrade your home to incorporate solar and other green energy generation methods. Reach out to us at 707-578-5380 to learn more about our green services.