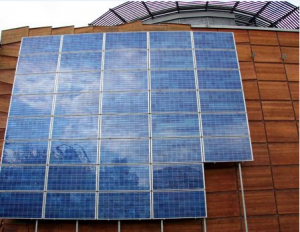 The San Francisco Board of Supervisors recently passed a new law that will require all new buildings that are 10 stories in height or smaller to add solar panels.
The new rule goes into effect January 2017, building on an existing California law that requires all new small- and mid-sized buildings to make a portion of their roof solar-ready. For residences, that requirement is 250 square feet of space and 15 percent of the roof space on larger structures, according to CNN.
While this is a momentous law for solar power, its implementation may not be as impactful as some hope. San Francisco is already a very densely populated city, which means that new construction within the city's limits is pretty rare due not only to the cost of development in a heavily urban environment, but also due to strict zoning and environmental regulations.
The new regulations only apply to buildings with 10 floors or fewer. These buildings can install solar panels that generate electricity or solar water panels that heat water on the outside of the building and then bring it inside for use.
For a small home, 250 square feet of high-efficiency solar panels can generate about 4.5 kilowatts of electricity, offsetting the average amount of power a household regularly uses. Solar panels are also often eligible for purchasing incentives, and can generally pay for themselves with energy savings within just a few years.
City leaders said the legislation is necessary because of the city's coastal location and rising sea levels, along with a long-term goal of having the city use 100 percent renewable energy in the future.
While solar panels may not be for everyone, there are many other steps that people can take to help make their home or business more energy efficient before investing in expensive solar panels. Rick's Energy Solutions has long helped customers do just that through a range of services that includes energy conservation design calculations, energy conservation field verification and testing, and green home energy upgrades.
Rick's Energy Solutions also provides solar energy (PV) consulting to assist in the design of your home and PV system to qualify for the New Solar Homes Partnership PV rebate program. For more information on how we can help you improve your energy efficiency, call us today at 707-578-5380.